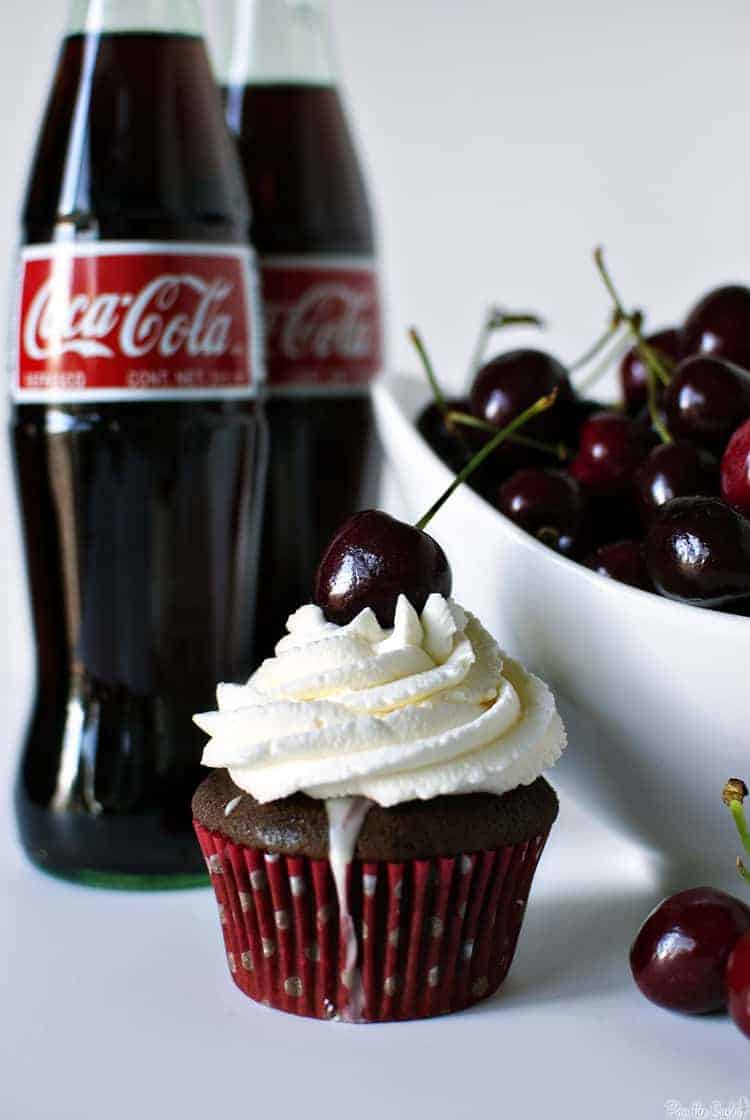 Ingredients:
For the Cake:
3 cups all purpose flour
6 T cocoa powder
1 tsp baking soda
1/2 tsp salt
1 1/2 cups sugar
1 cup unsalted butter, room temperature
2 large eggs
1 cup buttermilk
1 1/2 cups Coke (don't use diet)
3 tsp vanilla extract
1 can cherry pie filling
For the Glaze:
1 1/2 cups powdered sugar
3-4 T Coke
For the Icing:
1 1/2 cups heavy cream
6 T powdered sugar
1 teas Whip-It (optional*)
Maraschino Cherries for garnish
Directions:
For the Cake: Preheat the oven to 350 degrees and line muffin pans with cupcake liners. Mix together flour, baking soda, salt and cocoa in a bowl and set aside.

In a mixing bowl, combine sugar and butter and beat on medium-high until light and fluffy. Mix in the eggs one at a time, beating well after each and scraping down the sides if needed. In a small bowl, combine buttermilk, Coke and vanilla extract, making sure to let the foam calm down after you mix it in. Foam will do us no good here.

Beginning with the your flour mixture, add to the butter mixture, alternating with the Coke mixture in 4 parts. Beat each addition just until incorporated.

Fill each muffin tin about 2/3 of the way full. Bake for 18-20 minutes until the tops spring back when touched lightly and a toothpick inserted in the center cupcake comes out clean. Cool 5 minutes in the pan and then transfer the cupcakes to a wire rack to cool completely.

Once cooled, use a paring knife to cut out a cone shape in the middle of each cupcake. Add a spoonful of cherry pie filling to each cupcake. You may want to try to chop the cherries up a bit. The whole cherries were a bit hard to fit in each cupcake. Strain and reserve the liquid, give the cherries a quick chop, and then toss them back in the liquid before filling each cupcake.

For the Glaze:

Mix together powdered sugar and coke with a whisk in a small bowl until no lumps remain adding more or less sugar if needed. You want a thicker constancy, one that will glaze the cupcake but not disappear down the sides or into the cupcake.


For the Icing:

Chill your mixing bowl for 10 to 15 minutes before you are ready to make your icing. Beat cream in a chilled bowl with whisk attachment or hand mixer on low speed. If using, add the Whip-it then begin to add the powdered sugar, 1 spoonful at a time, increasing speed as the cream comes together. Whip the cream until it holds stiff peaks. Using your favorite tip, pipe the whipped cream onto cupcakes and top with maraschino cherries.